Join Roy, founder of Clean Jurassic Coast, as he kayaks across Britain to raise awareness about the impacts of littering and plastic pollution. Read on to find out about the Top Down Kayak Challenge!
2020 was a funny old year wasn't it? Lock-downs and and a pandemic, nobody travelling abroad for their holidays, beaches left in such a bad state thanks to some very selfish visitors. Myself and my Clean Jurassic Team spent a lot of the summer collecting bag after bag of rubbish, ultimately collecting well over 2000kg of plastic from the beaches, coast paths and the sea.
Oly Rush swam the entire Jurassic Coast in an effort to raise money for environmental charities and I was his kayak support. The 100 mile swim took 10 days and we collected litter along the way, but also found dead animals and seabirds, some entangled in fishing line.
We continue to collect plastic and other litter but feel there is a lack of awareness about the effects littering can have so I am going to kayak Britain and try to raise that awareness to new heights. The map shows my 900 mile route, I'll be setting off in late May, if COVID restrictions allow, and I shall kayak the sea, canals, rivers and lakes. for information and to donate please visit www.kayakingforcharity.co.uk. And lets spread the word about the plastics problem.
There will be a live tracker during the challenge, which can be found at http://www.kayakingforcharity.co.uk/live-tracking.html, but most updates will be on our Facebook group Kayaking For Charity or Instagram @top.down.kayak.challenge
Please follow us, spread the word and share our social media!
It's official! Roy will be kayaking from John O'Groats to Land's End – visit www.kayakingforcharity.co.uk to find out more.
Take a look at Roy's new video on the importance of plastic pollution and why he has decided to take on this challenge! Watch the video here.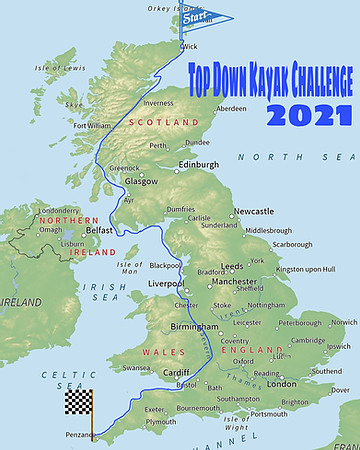 Follow. Share. Save the Planet.