Swim Jurassic Challenge September 2020
Oly Rush, one of the Clean Jurassic Coast team, swims the entire 96 miles of the Jurassic Coast to raise money for CJC and GoPladdle.
"I have an overwhelming urge to do all I can to protect the environment and all creatures who call it their home. I'm an ocean advocate and I started up the Instagram page  @_projectplanet_ to share images from our beach cleans, as well as to raise awareness about the devastating effect litter and plastic pollution has on our oceans. This platform has introduced me to many like-minded people who have become my friends."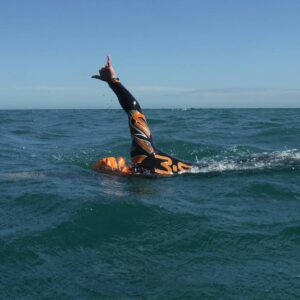 Roy Beal, the founder of Clean Jurassic Coast, kayaked alongside Oly. Roy has a lot of experience in supporting sea swimmers and was responsible for planning the trip around the fickle weather, the tides and various currents that dominate the coast. The many headlands along the way threw 'tide races' at the pair of them, as well as shallow and rocky waters when ventured too close to shore.
Why on earth (or sea) would this pair of nutters be doing such a challenge?
​
Oly. "Two organisations I work with closely are Clean Jurassic Coast and Gopladdle. Both of these groups work incredibly hard and are in need of money for essential equipment to enable them to carry out the work they do."
​
Roy. "The money will be spent on safety equipment for the volunteers, as well as help with the day-to-day costs of running these kinds of organisations. At this present time, they are mainly funded by the volunteers themselves, with a little help from members of the public. The two organisations will not just be litter picking though, they will also be educating school groups and businesses in an effort to help reduce plastic use and littering. It's an ongoing battle and the generosity of our supporters will ensure we can make a difference."
With an ever-increasing contingent of volunteers helping the main Clean Jurassic Coast and Gopladde teams, there is a need to increase the amount of specialist equipment and safety apparel.
A final word from Oly. "Please, please share this far and wide and if you can donate, even a small amount, it will make a huge difference. Every penny raised will go towards cleaning our beaches, preventing litter from reaching the ocean in the first place and help resolve the many other environmental issues our planet faces.
Thanks so much for taking the time to read this, I'm off swimming!"
​
Swim Jurassic was a 10 day swim from Orcombe Point in Exmouth to Old Harry Rocks, near Studland. You can see the tracker results here (select dates 26/08/2020 – 05/09/2020).
​
Find the swanage news article here.
Only raised an amazing £9,590 for GoPladdle and Clean Jurassic coast.
Follow. Share. Save the Planet.