Chapman's pool 26/01/2020
Where it all started…pretty much
This last week has been pretty busy, but we have managed a few beach cleans.
Oly has returned to Chapman's Pool and grabbed a few more buckets and bags of plastic. During numerous visits this month, including taking his partner Ted (Tess to the uninformed), he's been working hard to clear that place and has shifted roughly 40 rubble sacks worth! The problem with Chapman's is that it is perfectly placed to catch all the plastic that drifts along the prevailing currents and winds. It's awful and we've managed to arrange a proper beach clean on February 8th. Check out our calendar page if you fancy helping.
Oly also paid a visit to Hamworthy Beach, his local spot. He and Tess managed to clear a load of plastic there as well including a very dodgy looking syringe!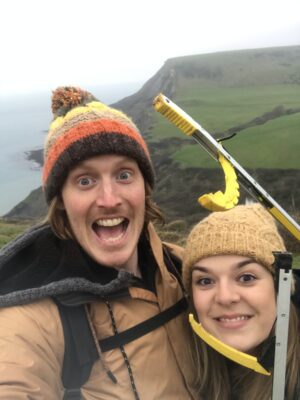 In West Bay on Tuesday, I tried to remove some rope stuck in the rock armour on the western beach. After blunting two knives due to the grit, pebbles and rocks, I had to give up and promise to return. Cheryl, a lady who regularly cleans the beaches in that area, had told me about the rope after she too struggled to remove rope. I'll head back this week and have another go after sharpening my knives.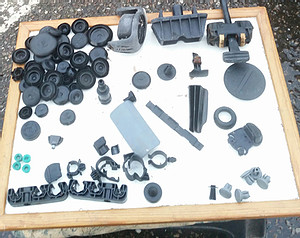 Numerous beach cleans in my home town of Seaton this past week have highlighted an ongoing problem. The MSC Napoli is still causing environmental issues with car parts continuing to wash up, even now after 13 years. It was January 2007 when the ship was in a storm off the Cornish coast. Cracks started to appear in the hull and she was taking on water. The crew sent out an SOS and were rescued by the Coastguard, a feat of heroism in such awful conditions. Taken under tow, the MSC Napoli was to be taken to Portland Harbour in Dorset but as she was passing Lyme Bay, her condition worsened. The captain of the tug made the decision to beach the ship in shallow water off Branscombe, the reasoning being that the environmental impact would be less than if she sank in deep water.
Containers washed onto the beach at Branscombe and, with the world watching, people raided the place, stealing what they could until an old maritime rule was put in to place to stop them. It was pretty embarrassing as we looked like common thieves to the world. It took over two years for the ship to be fully removed, a story well worth a read if you have the time (the internet is a great library!). 13 years later, we often find bits washing up after a storm.
I found some empty cans of lager and cigarette ends on the Sunday. These were quite obviously dumped, rather than washed up, left behind by some fishermen that were there over the weekend. They would have walked past various bins as they left the beach so there is no excuse for such blatant laziness and disregard for the environment. Some education is needed perhaps?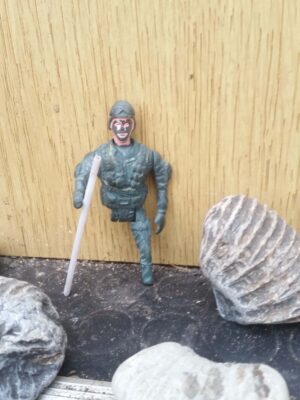 Finally, meet Chuck, the new Clean Jurassic Coast mascot. This soldier was found lying amongst the Seaton pebbles on Saturday. The poor guy has had a bit of a bad time, losing his right leg, left foot and a hand. Thanks to other flotsam washing up, he now has a Lego 'foot' and a straw crutch. Look out for him on future beach cleans. If we can't add a little humour in life, what do we have left?
Look for us on Instagram @cleanjurassiccoast for the latest news and updates on Chuck and other litter picking adventures.
Follow. Share. Save the Planet.